Additives for Marine & Protective Coatings
Marine & protective coatings are applied to metal and concrete substrates to provide corrosion resistance and fire protection and to secure metal structures, particularly from salt water and other environmental impacts. Durability is also a high priority. Marine vessels, offshore supplies, yachts, and containers ships are a few application areas. 
WATERBORNE
A waterborne coating is an environmentally friendly surface treatment that uses water as a solvent to disperse the resin used to make the coating or paint. Water comprises a minimum of 80% of the solvent used. Its aim is to make the coating or paint an easy-to-apply, eco-friendly product. Waterborne coatings are widely used due to their low VOC (volatile organic compounds) content. 
SOLVENTBORNE
Solventborne coatings are surface treatments that contain VOCs. Advances in waterborne coatings are making them an increasingly attractive option as a method of protecting material surfaces even in harsh conditions. Solventborne coatings can be differentiated by their VOC content, which can range from medium solids (approx. 50% VOC) up to ultra high solids (less than 10% VOC).
Detailed product recommendations for marine and protective coatings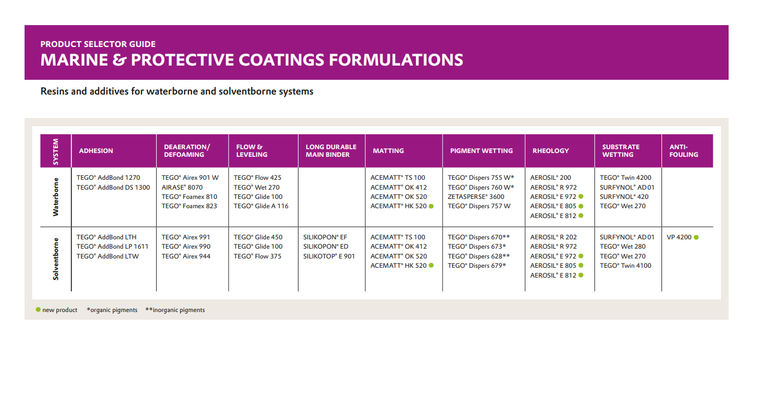 Product selector guide marine and protective coatings
Download our condensed product recommendations for marine and protective coating formulations.
VIEW AND DOWNLOAD OUR LATEST VIDEOS, TECHNICAL ARTICLES, PRESENTATIONS, AND BROCHURES ON THE TOPIC OF MARINE AND PROTECTIVE COATINGS.
Researchers at Evonik are working on a variety of alternatives for traditional biocide-containing coatings: from a new silicone epoxy hybrid resin system, whose anti-adhesive properties make it difficult for micro-organisms to stay attached to the hull, to amphiphilic polymers that "hide" the hull's surface and prevent attachment/settlement, to a hydrophilic structurally modified AEROSIL® that interacts with copper oxide to create a tougher and more resistant coating film.
Jane Goh, senior chemist at Evonik's research hub in Singapore, discusses the challenges associated with formulating environmentally friendly, high-performance industrial coatings.