Additives for Metal and Glass Coatings
Coatings for metal and glass substrates like aluminum extrusions for construction; metal components for cars, trucks, and buses; metal furniture, racking, shelving, fixtures, rims, fittings and lighting; fabricated metal components; solar panels; wine bottles; perfume flasks; IR absorbing windows; and more.
WATERBORNE
A waterborne coating is an environmentally friendly surface treatment that uses water as a solvent to disperse the resin used to make the coating or paint. Water comprises a minimum of 80% of the solvent used. Its aim is to make the coating or paint an easy-to-apply, eco-friendly product. Waterborne coatings are widely used due to their low VOC (volatile organic compounds) content.
SOLVENTBORNE
Solventborne coatings are surface treatments that contain VOCs. Advances in waterborne coatings are making them an increasingly attractive option as a method of protecting material surfaces even in harsh conditions. Solventborne coatings can be differentiated by their VOC content, which can range from medium solids (approx. 50% VOC) up to ultra high solids (less than 10% VOC).
UV
A UV coating is an organic surface treatment that is cured by ultraviolet radiation. The VOC content of these coatings can range from 0-50%. UV coatings offer the benefit of having a very fast curing mechanism (<1s) which allows the paining process to progress quicker.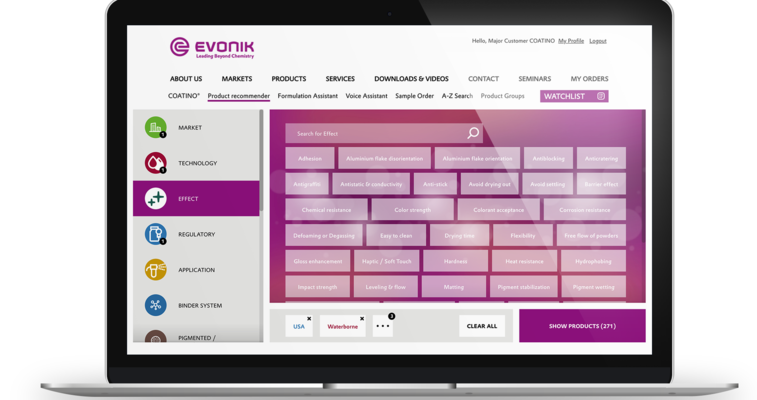 Detailed product recommendations for metal and glass coating additives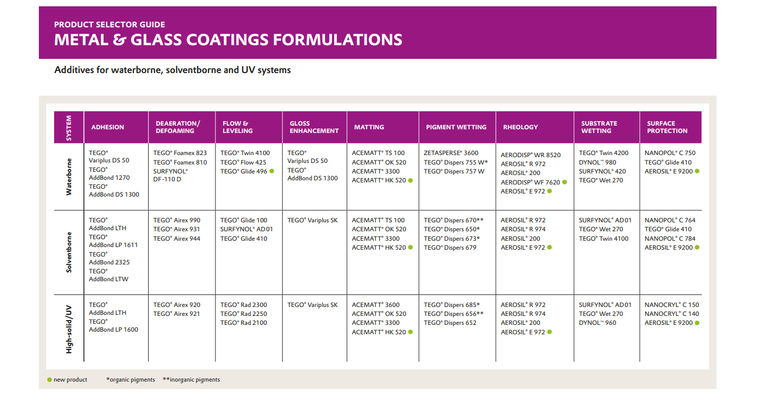 Product selector guide metal and glass coating additives
Download our condensed product recommendations for can coating formulations.
Recommended downloads for metal and glass coatings