Additives for Wood Coatings
Wood coatings on furniture, window frames, or parquet have to meet decorative as well as protective needs. Our wood coating additives support efficient production processes and ensure defect-free surfaces after application. For the end user, our products guarantee beautiful wood surfaces protected against scratches and other mechanical stress.
The challenge: Scratch-resistant, durable, and naturally beautiful  
With the trend toward natural, sustainable materials, demand is growing for wooden furniture for indoors and outdoors, wooden kitchen countertops, or parquet floors that look good and natural and last a long time. Many customers want to formulate products that allow the structure of the wood to show through a transparent, matte coating, which gives the surface a non-treated, natural look. At the same time, the coating should be scratch-resistant, stain-resistant, resistant to mechanical stress and, if necessary, weathering.
When formulating wood coatings, it is important to combine appearance and a pleasant, uniform feel with very good performance.
Efficiency and process speed are also key elements, all raw materials have to contribute to. Especially line speed as well as flexible production concepts are often targeted.
In addition, it is also important that the coating itself is also as sustainable as possible, can be produced in efficient processes, is easy to handle and apply, delivers very constant film quality, complies to global regulation, is safe in use, and emits very little volatile organic compounds (VOCs) when drying.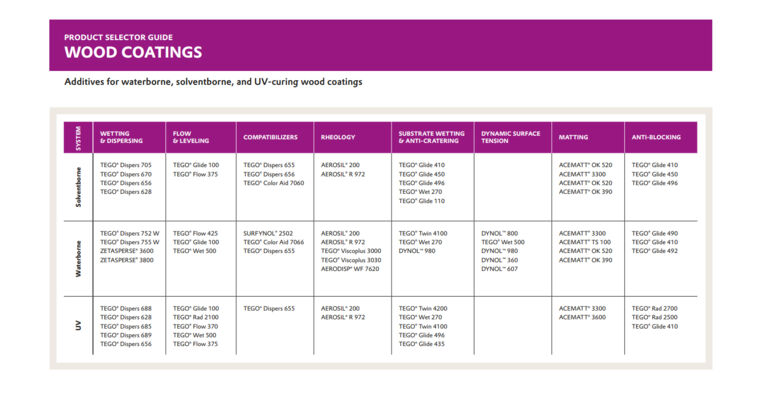 Product selector guide wood coating formulations
Download our condensed product recommendations for wood coating formulations.
The solution: Great service, unique portfolio, and full support
In wood coating applications, there is a constant trend towards water-based as well as radiation-curing formulations. We have developed a variety of additives and specialty particles that allow you to formulate high-quality wood coatings. These include defoamers and deaerators, including very challenging application methods like airless spray as well as substrate wetting additives and additives for surface modification. Our broad portfolio of matting agents is suitable for different target gloss levels. In addition, they ensure transparency where needed and natural haptic & touch of the coating.
Our global experts are familiar with the challenges of wood coatings - whether it's wetting of difficult substrates, anti-blocking, rheology profiles or scratch resistance. They advise you on the choice of suitable additives and work with you to develop customized solutions for an efficient production process and long-lasting coatings.
To find the best formulation for your application in the shortest possible time in projects, our High Throughput Equipment (HTE) can be used to test and compare different combinations of additives for wood coatings. This often saves a lot of time.
You can find out about our additives for the wood coating market and the appropriate technologies on COATINO® or acquire the knowledge you need for your daily work on the COATINO® Campus learning platform.
Broad portfolio of additives and binders specifically for wood coatings
Technical experts available worldwide & HTE support
COATINO® and COATINO® Campus offer 24/7 digital support
Wood is a particularly sustainable raw material and thus gains a lot of interest for use in construction and production of goods such as furniture. A wood coating can improve the ecological balance even further by reliably protecting the surface from mechanical stress, making it particularly resistant and durable allowing longer lifetime. Our additives and specialty particles strongly contribute to this special protective effect of wood coatings. The new product family SPHERILEX® allows to formulate very low gloss coatings offering a very high mechanical resistance.
To ensure that the coating itself also becomes increasingly sustainable, we are expanding our portfolio of additives to include sustainable, partly bio-based raw materials that can be used as universally as possible, for example, our defoamer TEGO® Foamex 832. At the same time, our team of experts is developing ever more powerful products for the particularly environmentally friendly water-based and UV curable technologies. For example, dispersants can contribute to the cost- and energy-efficient production of coatings due to fast particle wetting and optimized grinding processes.
In the wood coatings market, there is a trend towards transparent and matte formulations. The wood surface should be protected but look untreated and natural at the same time. Addressing this trend, we have developed new, innovative products that help to retain the natural appearance of the surface without sacrificing the protective effect.
We are constantly expanding our broad product portfolio for wood coatings to meet challenges such as effective defoaming, cissing, matting, or scratch and mar resistance. To help us meet these goals, our product development activities typically incorporate customer feedback early on in the process.
For various fields of application, we develop individual solutions that also meet the current trends towards environmentally friendly coatings that emit low levels of VOCs in the drying phase.
Strict regulations apply to wood coatings. Among other things, these are intended to ensure that the ingredients of the formulations are safe and sustainable and that the coating as a whole complies with all specifications.
Our Regulatory Team keeps track of all changes for you and points out regional differences.
In addition to personal advice, you will find an up-to-date Regulatory Data Sheet in various languages for each product on COATINO®.
In the field of wood coatings, we have a broad technological base and offer additives for solvent-based, water-based, and radiation-curing formulations. The solvent-based technologies are well established and typically very robust. Here we offer a broad portfolio of functionalities for process & property optimization.
In many applications, environmentally friendly water-based technology is already competitive with solvent-based systems. Our long experience with waterborne formulations and the broad portfolio of additives allow us to deliver solutions for a variety of challenges.
Radiation-curable technology is globally growing in wood coating applications and offers benefits in environmental friendliness and efficiency. Functionalities like efficient deaeration, particle wetting and stabilization as well as surface control with UV-crosslinkable additives are already available today while there also is constant R&D activity to address new trends.
Defoaming/Deaeration
Matting
Wetting and Dispersing
Compatibilizing
Flow and Levelling
Rheology Modification
Hardness improvement
Dynamic Substrate Wetting
Static Substrate Wetting
Slip
Anti-Scratch
Anti-Blocking
Formulators of wood coatings use a broad variety of binder technologies and address many different property profiles as well as application processes.
Our product portfolio offers additives and specialty particles for each of these requirements. In our additive recommender, you can filter specifically by technologies, functionalities, as well as products and product groups – making it easier to select the optimum additives for your formulation. In addition, our experts are on hand to advise you depending on your specific needs.
Show Case: How additives provide deep matte wood coatings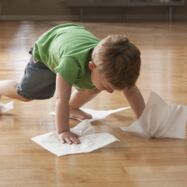 SPHERILEX® DP-0110 is a silica with particularly small, spherical particles. Combined with classic matting agents, it acts as a kind of matting booster in waterborne wood coatings that leaves wood surfaces with a beautiful, natural-looking appearance. At the same time, the additive improves the scratch, burnish and mar resistance of the coating, increasing the durability of the surface. This new spherical silica addresses the trend towards particularly robust wood coatings with natural look .