Coatings Innovation - At the core of everything
We are your premier innovative business partner. 
Benefit from increased speed-to-market time, state-of-the-art products, and sustainable solutions.
Clear differentiation in coatings competencies based on strong technology competence backbone
Particle technology. Silicone chemistry. Surfactant technology. Polymer chemistry. Our broad technology toolkit addresses all kinds of surface phenomena and enables "formulary play" to increase innovation and collaboration in the coatings industry.
In our modern laboratories, research projects are carried out in close consultation with our customers with the aim of creating innovative, customer-specific solutions and remaining pioneers in developing new technologies.
R&D Competence
More than 250 experts in our Applied Technology & Innovation Management team work around the world, developing new coating additives and optimizing the formulations of our customers. With 16 Technical Service Labs around the world, we're always close to the market. We work not only for our customers but with them - in a trusting and reliable partnership. Thanks to our decades of experience and our continuous research, we offer deep market insights and long-term forsights .
Don't hesitate to contact us and benefit from increased speed-to-market time,  state-of-the-art products, and sustainable solutions. 
Fully automated formulation testing
Additive Testing Facility
A new, fully automated high-throughput system for testing coating formulations enables Evonik to cut down significantly on time spent searching for the optimal formulation. In doing so, we accelerate not only our own pace of innovation, but also that of our customers.
Anti-Fouling Additives
Evonik already has effective solutions for anti-fouling coatings in its portfolio. We are now working on new formulations for the effective protection of ship hulls against bio-fouling, using fewer biocides or even dispensing with these altogether.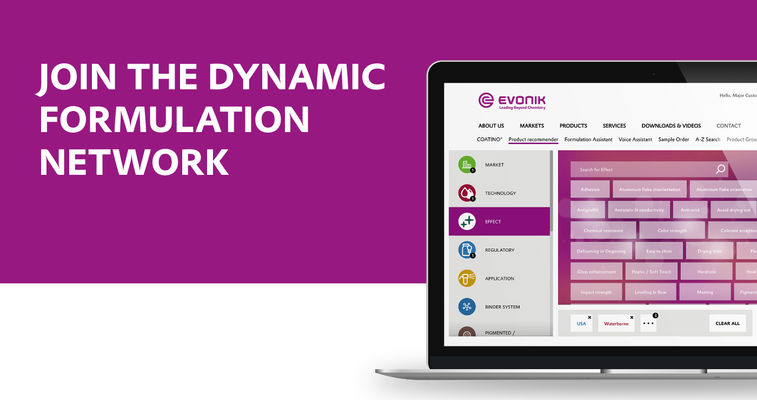 Find your additive in 100 seconds
Product Recommendations, Formulation Assistance, Voice Control Interface: The AI-supported COATINO® network is your "all-in-one" solution to save time and money for developing new coating formulations.